Honor Guard
OVERVIEW
The Town of Fishkill Police Cadet Honor Guard team was created in 2001 for the purpose of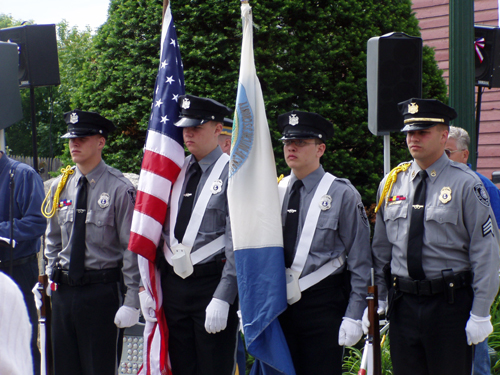 the post maintaining a well disciplined parade unit. The unit prides it self on being a well-disciplined, highly professional honor guard team.
The 5 man team consist of a Sergeant-at-Arms which leads the team and 4 members. The members of the team are selected by the Cadet Staff. Each member is responsible for maintaining skill and discipline as members of the team.
The unit has volunteered its time in participating in many events. It has served in 9/11 memorial events, at the Tampa Bay Devil Ray's minor league baseball team games (Hudson Valley Renegades), community and area events, and various other parades/ events.
MEMBERS
Sergeant-at-Arms/ Rifleman: Cadet Lieutenant D. James
Flag Bearer: Cadet Corporal K. Voltz
Flag Bearer: Cadet C. Predgo
Rifleman: Cadet Sergeant B. Smith
PICTURES
Honor Guard participating in 9/11 Memorial Dedication Ceremony (9/11/05)

Honor Guard marching in the Memorial Day 2004 Parade (5/31/04)

Current Honor Guard - (R-L) B. Smith, K. Voltz, C. Predgo, & D. James in the Current Honor Guard Uniform - Black / Grey

Original Honor Guard - (R-L) T. Dexter, Jr., C. Pisanelli, J. Fisch, & D. James in the Previous Honor Guard Uniform - Brown / Tan
Honor Guard presenting the colors at the 9/11 memorial day game at the Hudson Valley Renegades in front of a crowd of 4,500 people.
Honor Guard marching off field during the 9/11 memorial game at the Renegades.